Do you find it hard to get a quick appointment with your personal care physician (PCP) when you need immediate attention for a non-life threatening medical condition? Do you dread visiting the emergency room for a small wound or ingrown toenail because of the inordinately long waiting times and steep medical bills?
Southern California has numerous well-equipped hospitals. But if you need access to a doctor for a simple treatment or medical test, getting this done quickly can feel impossible.
This is where UrgentMED is working hard to make a difference. If you live in or around Newport Beach, visit our nearest UrgentMED clinic for an exceptional medical care experience. This article covers the many urgent care services we offer in Newport Beach.
Dedicated Care is Available from Top Medical Professionals at UrgentMED
Health issues can arise when you least expect them, and they can have a wide range of complexity and severity. Most health concerns are not severe enough to be life-threatening. Visiting the emergency room (ER) for such conditions might be unnecessary in many cases.
What's more, a trip to the ER is often a stressful and uncomfortable experience. Our nation's healthcare system is overburdened, especially due to widespread staff shortages in recent years. The ER usually requires you to wait hours to see a doctor, and if that's not enough, the treatment is often very expensive.
UrgentMED urgent care centers are designed to offer you a vastly different experience. You can walk into our clinics without an appointment and get the care you need much more quickly. We provide highly affordable services compared to the ER without any compromise on quality.
If you live around Newport Beach, CA, and have any non-life-threatening health issues, visit our UrgentMED clinic at 3300 West Coast Highway, Suite A, Newport Beach, CA, 92662. You can reach us by phone at: 949-996-0002.
We have extended business hours of 8am–8pm on weekdays and 9am–5pm on weekends.
Why Choose UrgentMED Newport Beach for You and Your Loved Ones?
Our UrgentMED clinic in Newport Beach is fully staffed and equipped to deal with a wide array of health issues, minor injuries, and other routine medical services. Here is an in-depth look at the key features and services you can find at UrgentMED:
Same Day Walk-In Urgent Care Services
In general, you cannot visit a doctor at a private practice or hospital without scheduling an appointment. Sometimes getting an appointment itself takes days of waiting. And if you show up at the doctor's office without one, you will either be rejected or required to wait for hours.
This is not the case at UrgentMED. We welcome patients anytime during our business hours — no appointment needed!
A Comprehensive Range of Care and Treatments
UrgentMED operates over 40 urgent care clinics across Southern California. Each clinic is well equipped to offer you advanced healthcare services in the following categories:
On-site Lab Testing and Diagnostic Facilities
Our clinics have modern lab facilities on-site. We offer affordable access to a wide range of medical tests including X-rays, EKGs, drug testing, STD tests, urine and blood tests, pre-op testing, employment testing, RSV testing, COVID-19 testing, and more.
General Examinations
The doctors and nurse practitioners at UrgentMED can handle routine checkups and examinations. This includes gynecological checkups for women, pre-operative clearance checkups for patients awaiting surgery, and school physicals for your children at the beginning of the school year.
Non-Surgical Procedures
UrgentMED clinics offer a variety of common vaccinations for adults and children. We also offer nebulizer treatment for asthma patients and others with breathing difficulties. Other services include treatment of minor cuts and injuries, foreign body removal, and flu treatments, vitamins, and antibiotics.
Minor Surgical Procedures
You will need to visit the emergency room if you have any life-threatening health conditions or need a major surgery. However, UrgentMED clinics can provide some minor surgical procedures such as ingrown toenail repair, wart removal, and the draining of any cysts or abscesses. We also offer other procedures like skin biopsies and the removal of stitches.
Other Forms of Specialized Care
The doctors at UrgentMED can also handle work-related injuries that come with the possibility of worker's compensation under California law. We can work with your employer to help with the proper filing of any injury compensation claims. Our clinics can also offer physiotherapy for any injuries sustained at the workplace or at home.
On-site Pharmacy for Medications
In addition to quick access to doctors and testing, UrgentMED clinics also offer many common medications for purchase on-site. This means you can get the medications you need without making a separate stop at a pharmacy. We offer prescription and non-prescription medicines (over-the-counter pills) and other medical supplies.
UrgentMED Provides High Quality and Cost-Effective Care for All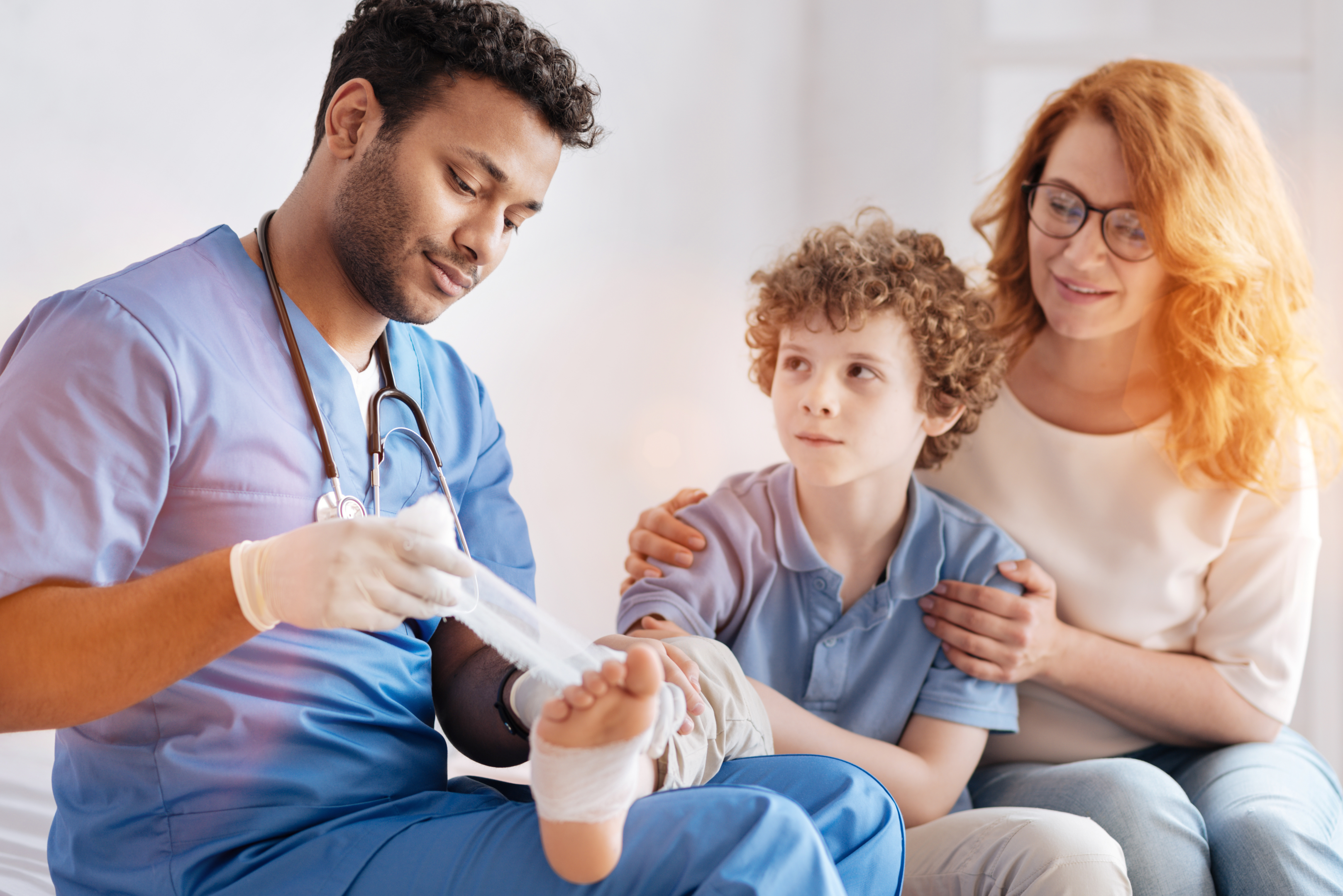 UrgentMED's mission is to provide affordable healthcare to as many people as possible in the local communities we serve. A visit to an UrgentMED clinic will cost a fraction of what it costs to receive non-emergency healthcare at the ER.
For example, studies by the Urgent Care Association showed that the average cost of a visit to the ER was $2,250. A similar visit to an urgent care clinic only cost $150 on average. The difference is immense and can make a positive impact on your finances.
You can also enjoy lower co-pay charges and deductibles with a visit to an UrgentMED clinic. We accept most forms of insurance coverage, so visiting one of our clinics instead of the ER can reduce your out-of-pocket costs.
We Accept Most Insurances and Offer Self-Pay Options
UrgentMED clinics accept Medicare, Medicaid, and many other health insurance plans. If you want to minimize self-pay costs, look carefully at your insurance plan rules and features. It's also a good idea to call your insurance provider to verify this information.
It's important to check whether UrgentMED is part of your health insurance company network. Visiting an in-network clinic will result in lower costs and deductibles. If the clinic is not part of your insurance network, the out-of-pocket costs may be higher.
Urgent care visits are considered a type of emergency care by the Affordable Care Act (ACA). The costs of these visits should be covered by insurance companies if you have long-term coverage. However, these details can be confusing and may vary depending on your specific coverage. When in doubt, contact your insurance company and ask.
If you don't have any insurance coverage, you can still visit UrgentMED for affordable payment plans. Our fee structure is designed to accommodate patients who are not covered by health insurance. You will find that the costs are still reasonable when compared to the ER or a doctor's office.
Trusted and Experienced Doctors and Staff
UrgentMED clinics are staffed by fully licensed and experienced medical doctors, nurse practitioners, and other support staff. Our staff members are fully trained to offer warm and comforting care services to all patients who visit UrgentMED.
We firmly emphasize a patient-first approach. We have a highly competent team of healthcare professionals led by experienced physicians. Our Newport Beach clinic is staffed with qualified individuals who will take care of your health concerns and provide guidance for a quick recovery.
Many of our staff, including doctors and nurses, have decades of experience in regular hospitals and emergency rooms. They are more than capable of treating routine illnesses, injuries, and other minor health conditions.
Urgent Care Clinics are Needed to Improve Healthcare
In modern medicine, primary care is provided by hospitals and emergency rooms. These are places that are open 24/7. They are equipped to handle all kinds of medical emergencies and treatments, including those where the patient's life is at immediate risk.
Unfortunately, there are not enough hospitals and ERs to cater to all communities. This usually results in long lines and waiting hours at the hospital due to overcrowding. The situation has only worsened after the COVID-19 pandemic.
Worse still, the cost of healthcare at these facilities is very high. Unless you have full medical insurance coverage, a visit to the ER could cost you thousands of dollars. In most American households, even a minor hospital visit create a financial strain.
Urgent care clinics were created to solve many of these issues. They are designed to handle minor health issues that do not warrant a visit to the ER, but still need a doctor's attention. These clinics are usually located in communities that do not have easy access to high-quality healthcare.
With their affordable rates and a wide array of services, the demand for urgent care is rapidly increasing across the United States. More than 90 million Americans visit an urgent care center each year. One-third of all primary care visits are now happening at urgent care clinics.
UrgentMED clinics are also open in the evenings and on weekends. The main advantage is that you can usually walk in and see a doctor without any prior appointment.
Our clinics also offer extensive scans and diagnostic lab testing facilities, as well as prescription medicine at reduced rates. In short, UrgentMED clinics help fill the gaps in your local healthcare system.
When Should I Choose UrgentMED Urgent Care Services?
There is a critical difference between "urgent care" and "emergency care." Understanding the difference will help you decide whether to visit UrgentMED or your local hospital ER.
For Any Non-life-threatening Health Issues
Emergency rooms are equipped to handle all types of medical emergencies, such as a heart attack or a life-threatening injury. However, most medical conditions are not life-threatening, so a visit to the ER is unnecessary. In these situations — such as an upset stomach, flu symptoms, small cuts or sprains, or allergies — your life is not in immediate danger, but you should still see a doctor for medical attention.
A visit to your nearest UrgentMED urgent care clinic is usually the fastest and most affordable option available to you. As long as the condition is not life-threatening, an urgent care facility is often the best solution.
For Various Medical Tests, Check-ups, and Wellness Visits
Often times when you visit the doctor, you aren't necessarily sick. Maybe your employer is requiring a fitness certificate or a drug test. Maybe your child needs a school physical exam. Perhaps you need to get tested for an STD, the flu or COVID-19. UrgentMED clinics are a great place to receive these services.
Women should get an annual gynecological check-up to screen for cervical cancer. The diagnostic and screening tests can be expensive at a hospital, but the rates are much more affordable at UrgentMED.
Many check-ups are covered by medical insurance. UrgentMED clinics accept most insurance plans, and even if you are not insured, the out-of-pocket costs will still be affordable.
When Should You Visit an Emergency Room?
While we encourage you to visit an urgent care clinic for the convenience and cost savings, we must emphasize that urgent care is not a replacement for a hospital emergency room. In some situations, you may have no choice but to visit the ER. We understand that it can be difficult to make these decisions when you or a loved one is facing a medical emergency.
If the condition is so severe that it needs to be addressed immediately by a doctor, and you feel that a delay could cause permanent health issues or death, visit the ER for immediate medical care.
If the condition is relatively mild and does not seem to pose an immediate risk, but still needs to be addressed by a primary care physician, visit your nearest UrgentMED urgent care clinic.
If you have questions about a specific, non-life-threatening health condition, don't hesitate to give us a call at 949-996-0002. Explain the details to our team and they will let you know if it's something they can assist you with.
How UrgentMED is Making a Difference in Newport Beach, CA
UrgentMED has built a leading presence across Southern California with an extensive network of urgent care clinics, doctors, and supporting staff. Each of our locations is equipped with modern technology, equipment and facilities.
When you visit our UrgentMED clinic in Newport Beach, or any of our other locations, you can rest assured knowing that we offer:
Quick walk-in access to medical care — no appointment required
Friendly and compassionate staff that serve you with a smile
Free parking
Quick access to an urgent care doctor without hours of waiting
Access to a wide array of treatments and testing services
Affordable rates — a fraction of what you would pay at the ER
Extended business hours — 8am–8pm on weekdays and 9am–5pm on weekends
If you need urgent care in Newport Beach — or elsewhere in Southern California — you can rely on UrgentMED. Reach us online to learn more or find an urgent care clinic near you. To speak to one of our friendly staff members about our urgent care facilities and services, give us a call at 949-996-0002.
---